Today May 22nd 2020, VMware has released Patch 1 for vRealize LifeCycle Manager (vRSLCM) 8.1. The release notes can be found here: [link].
So what is new? Not that much to the eye, mainly some fixes around vRA that might be usefull for your situation:
Scale-out of Patched Environments [link]. See screenshot at the end.
Integration Improvements between vRealize Automation and vRealize Suite Lifecycle Manager
The installation is pretty straigh forward:
Login to vRSLCM and go to Settings, Binary Mapping.
From the tab Product Patch Binaries, Click Check Patches Online.
Wait for the download to finish.

Note: If you do not have a direct internet connection from vRSLCM, you can download the patch from the VMware Patch Download Center [link]. Choose vRealize Suite Lifecycle Manager from the Product selection.
After download completes, you can upload the patch via Binary Mapping, Patch Binaries.
To install the patch, go to Settings, System Patches and Click New Patch button.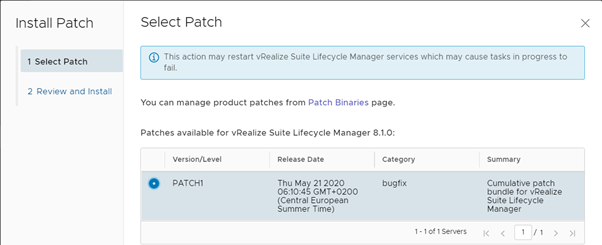 Select PATCH1, Click Next and Click Install.
All should go well and after an automatic restart you can check the version which should show the PATCH1 version: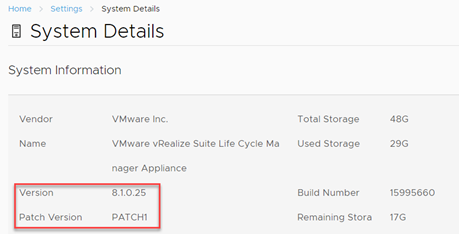 One of the new features is "Patched Product Binaries", which can be found under Binary Mapping and is very useful if you want to scale out a patched environment.