PaaS Capabilities and how VMware Tanzu fits in
VMware is on a mission when it comes to supporting Modern [Cloud Native] Applications. This journey started many years ago and was aimed to support existing customers to Run, Build and Manage all their applications on their existing platform (the VMware Software Defined Datacenter as we call it). VMware also has an healthy urge to deliver customers the best solutions possible and offer customers choice that best fits their use-case. All these new solutions are captured in the Tanzu product portfolio which can be quite overwhelming. New names, new capabilities make it hard to understand what they exactly offer. Therefor I decided to create an overview to explain where the VMware Tanzu products fit in. Customers can decide what PaaS capability level they would like to achieve, what they want to bring their own and when they would like to use our Tanzu solutions. Check out this interesting quote I once came across that mentions the bring your own strategy!
"So you want to roll your own application platform?
All you need is: Linux, Docker, Kubernetes, Istio, Prometheus, Fluentd, Grafana, Jaeger, Harbor, Open Policy Agent, Vault, Spinnaker and Jenkins
Oh, almost forgot, you're also going to need servers, people, and glue. Bring lots of glue!"
Recently some of my colleagues Viktor and Cormac already blogged about the Tanzu solutions and the more detailed functionality you can expect. These blogs also mention the name changes that have taken place after incorporating acquired solutions from Heptio, Bitnami and Pivotal, to name a few. Please visit their blogs to learn more.
The picture below, that I found on a Cloud Foundry github page, is what initially triggered me. It explaines what you get from a solution and what you need to bring yourselves within PaaS and it's capabilities.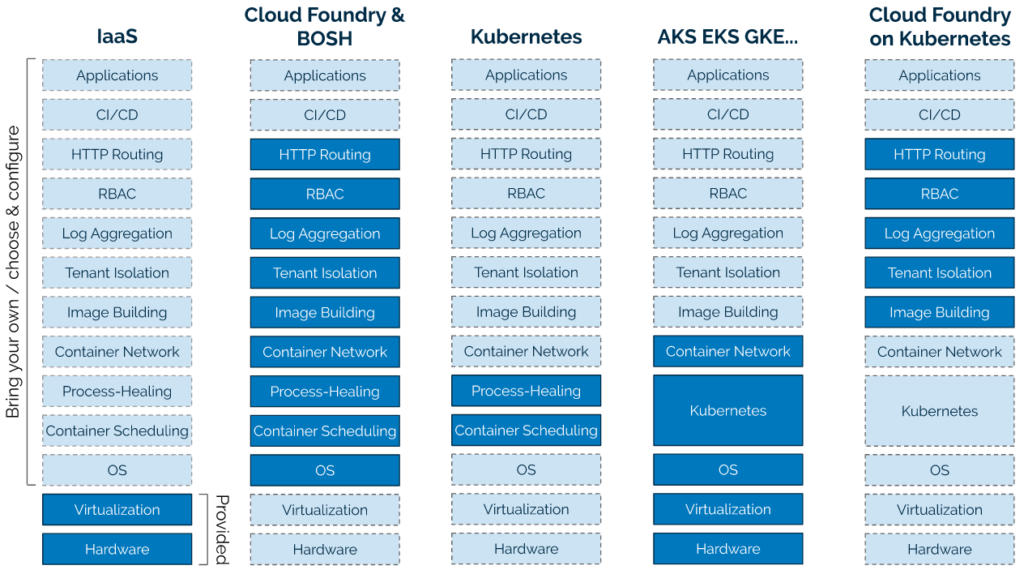 So I questioned myself, how would this overview look like with the current VMware SDDC and Tanzu solutions? With help of some colleagues I extended the capability list and started to map our solutions to these capabilities. This resulted in a nice and clear overview as shown below.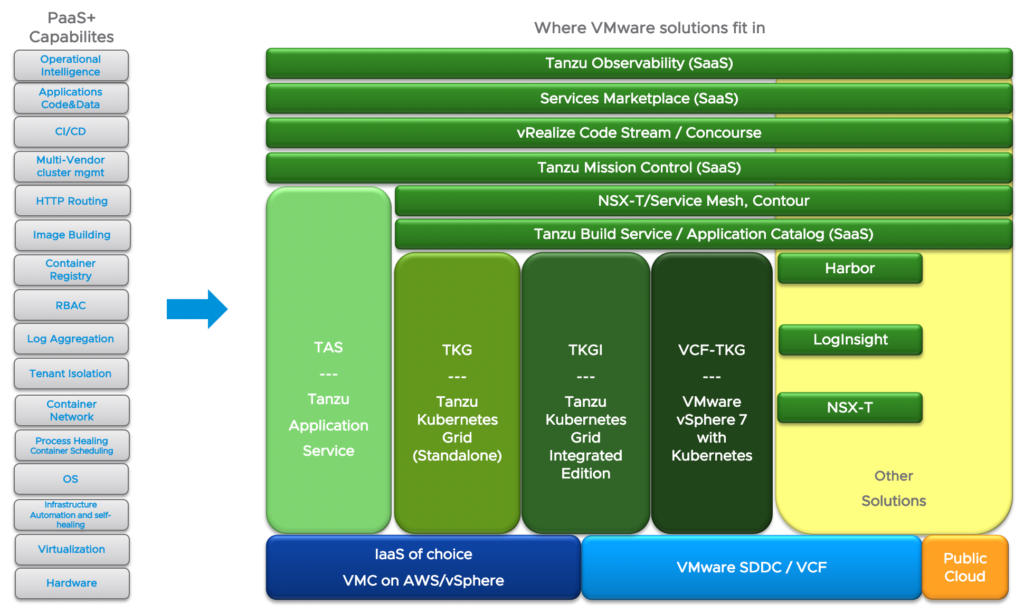 Based on this you can decide for yourselves how far you want to go up into the PaaS capability stack, what you want to use from the Tanzu portfolio and what you then need to bring your own. We could, of course, drill-down into each solution and explain which functionality is used at what layer but I will leave that for a next blog episode.
I hope this helps you to make an informed decision for your own Cloud Native Modern App use-case!